Alright, it is a
big day
today. A big day for all the
form5 students in 2010.
Ya,
SPM result is coming out today
!!
Nervous? Anxious? Worry?
No. I could felt
no one of them
. Idk whether it is good or not. lol.
Got to school about 11am. And I met Kai! He became bald and his skin became darker now because of NS. hahah. Pityyy him.
That's why he didn't let me to take his photo. lol.
Well. Another reason I went to school today is to return the PSV's reference books to teacher. I'd borrowed it for 4-6 months like that. But I never read it, except the day before SPM. hahaha.
And I found my Art Folio on teacher's table.
So I took some photos of it :)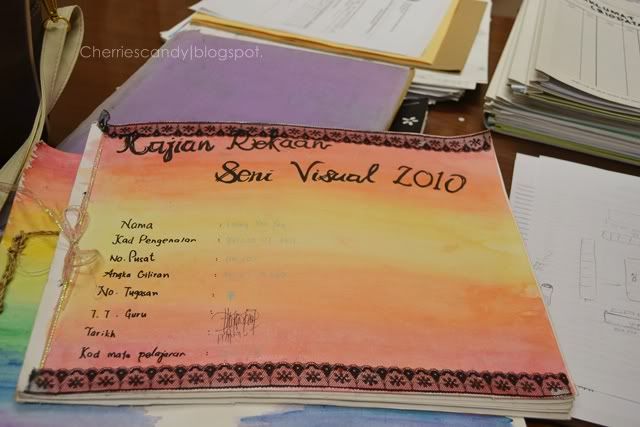 And this is Yanyee's.
Nice right? :D
And some others of my artworks. heheh.
I redrew this for hundred times. But it still looks like shit. =_=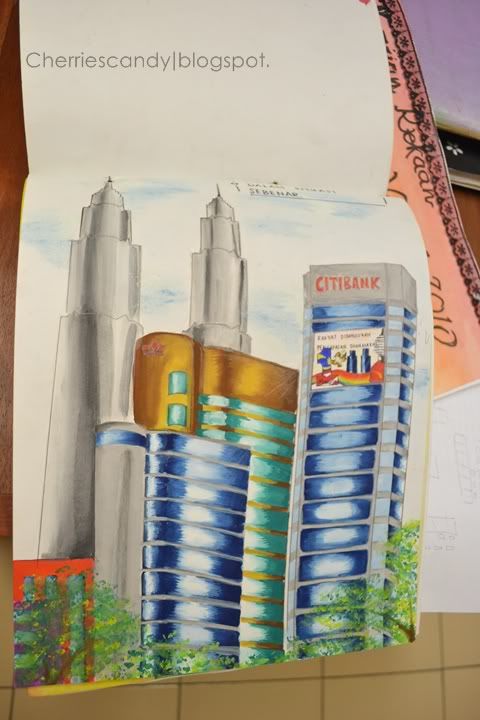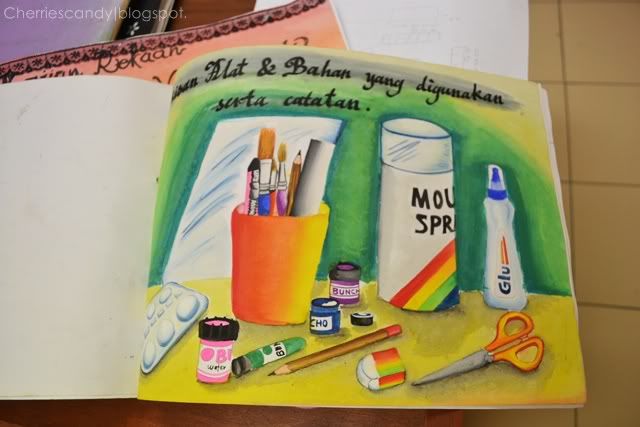 Alright. That's all. haha.
Looks! Now they still looks
relax
and
cheerfu
l right?
You'll see
what's happened next
...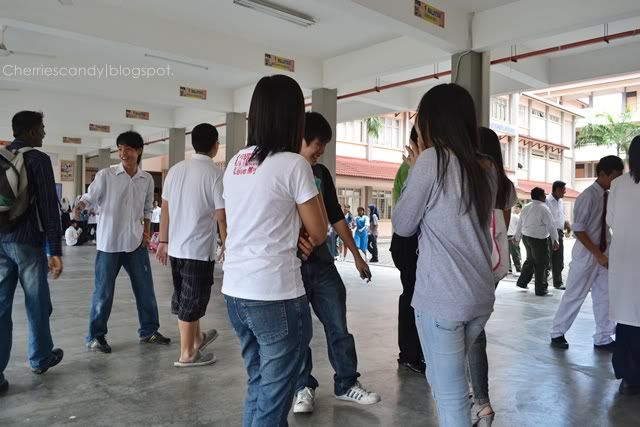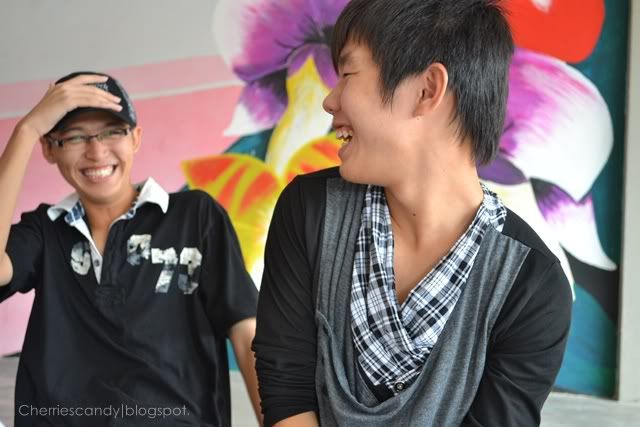 This is Mr.Ganal. Everyone in the school must know him. And know how fierce he is! lol.
He looks older now. The white hairs are coming out gradually :(
Alright, as I said, they looks so
cheerful
and
relax
just now right?
And now?
.
.
.
.
.
.
.
.
.
.
.
.
.
.
.
.
.
.
.
.
.
.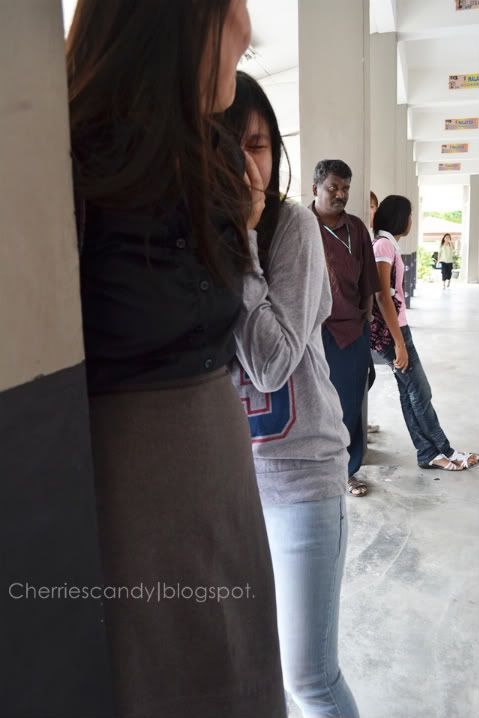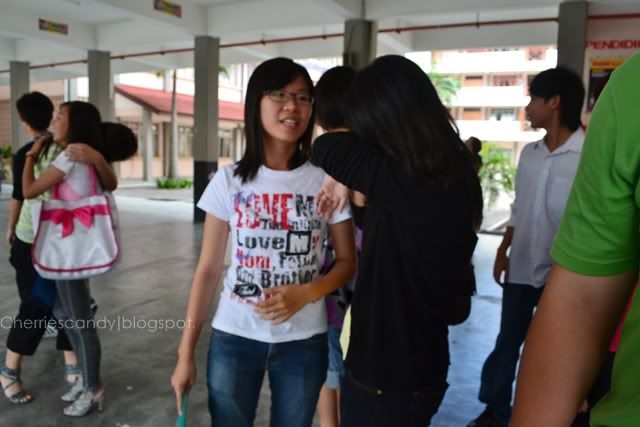 All of them have started to
cry
. lolll. I know it's normal. And I know am
abnormal
too. Cause I still cant felt anything. loll.
I never felt nervous or what else, til....
The teacher came. And I've started to tense up, for a very lil while, like 3 mins? loll.
Do she looks fierce? Ya, she did. And she is really
fierce
too. hahah.
Shhhh~


She is so nice actually. Just will be a bit serious when teaching.
For the 5C students in 2011, don't try to make fun of her at the serious moment, like when she is teaching and something.
Be serious when its time to be. And it will make the rest of your life in 2011 better! hahah.
Alright, the teachers have started to arrange those results.
Awww. The results are given following the name. As my surname is Ang. So I was the first one!
After sat down, teacher has started to hand out the certificates. And she put the result at the last. That's made me felt nervous again.
And
finally
I have got the result!
And that's
exactly what I want
! Thankssss teacher! :D
I love youuuuuuuu
♥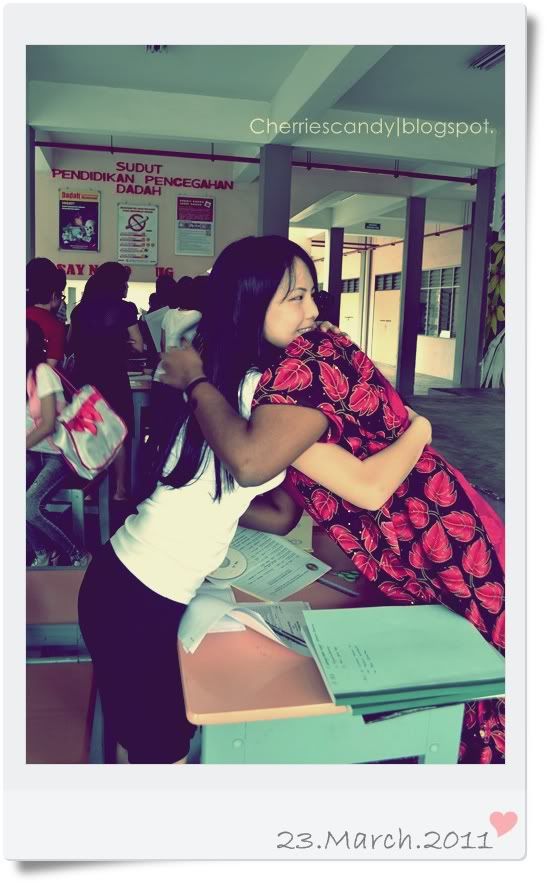 It's such a memorable day. I will never forget it :)
Even it's not very good result, but I at least it is enough for me, and am
fulfilled
:)
Well. And the next one will be, Chen Chui Yee!
The
best student
in the school :)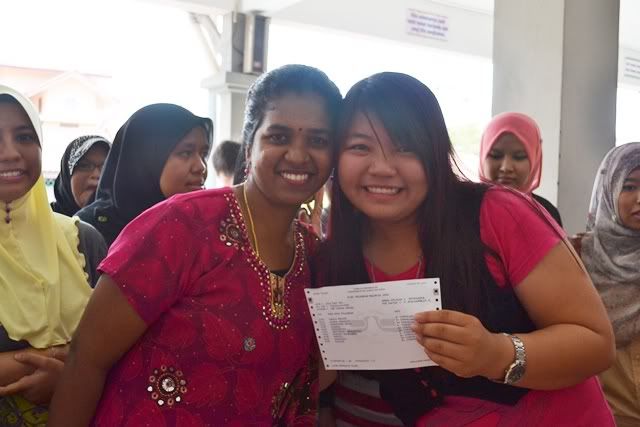 Ya, she got
straight A's
! Congratzzz :D
She is always the best student ;)
And yea, I've taken the video of her when getting result. But since the image size is too large so its very difficult to upload. But I will try to upload it as possible as I can :) Then you will see her funny face. hahaha.
Amy Lai :)
See, she cried til now. lol. She even cried until unable to sign! haha. I've captured one of her photo while she got the result. But I can't upload it cause I know I will
get killed by her
if I upload it. hahah.
And the rest..
He still can posed. You can know how relax was him. lol.
And Ms Tan~
Some other's I didn't take photos cause I was busying talking to Jean. haha.
Well. Actually we have a plan after taking result. But called off again because of alot of problems. Will make it next time. Promise? haha ;)
Lastly, congratz for the one who got good result! :D