First and foremost, I wanna wish,
-
My lovely mom
(Sept 15th)
-
Liu chun keat
(Sept 16th)
-
Liu Jia Yee
(Sept 18th)
HAPPY BIRTHDAYYY!! :D
Alright, went to baby's house today for bbq / birthday celebration of his bro's bday :)
I went there at noon as his mom wanna buy something that near by my house too so she came picked me up before going to buy thingy for bbq at night.
OMG. Am the shortest one in his family. haha. Even his sis also taller than me. Oh goshhh. LOL.
So..take a small nap at Beee's house before the bbq start.
After woke up and took a bath, I actually wanna find something to help auntie but its like nothing I could help so..suan la. ahah.
Finally I saw Christine today! :D She is baby's bro's girlfriend. lol. Also can say as the bday boy's girlfriend :)
She is nice. So friendly. And I found that I could get along well with her and baby's sis :D
Btw, finally I met the guy today, Lee kai syuen. lol.
He is so "strong". HAHAH. And so funny! lol.
They said I looks like my boyfriend?! LOL. Ron also mentioned before. idk why. loll.
So they keep call me "cousin of Ye". wth..lol.
Anyway, his friends are so funny and nice. Had fun a lot :)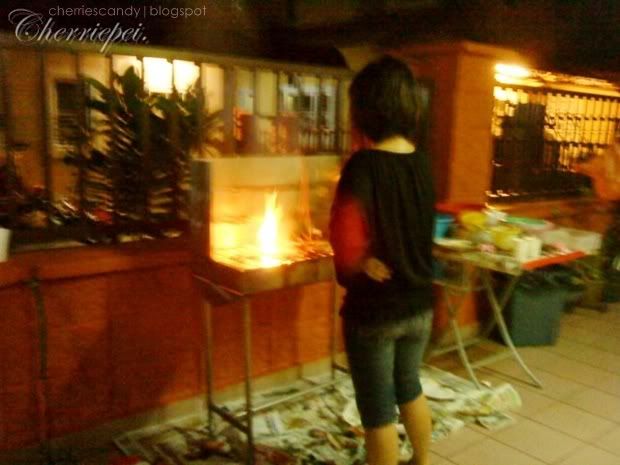 Oh ya, Baby's house got broke in by thief the day before yesterday. He broke in when they went out. His bro's laptop and 4 watches and his dad's 4 watches had been stolen. Aww, heart damn pain when heard it. Even not my things.
Ya, it's happened right on Kyle(baby's bro)'s birthday. lol. How pity him. It must be the most memorable birthday for him. lol.
Anyway, resident in Bukit Jeluntong must be more careful from now on. If not...lol.
Btw, I just ate 2 hot dogs and a lil bit chicken wings last night. Don't know why I have no appetite this few days >< Aikz.
Alright, went home around 1. Baby's uncle send me home. Am not familiar with them. So I just kept silent on the way to my house. Felt damn awkward sial. lol.
Sighhh. 3 months...I have to face my spm. And after 3 months only I can see babyyy. Nvm la...3 months...must struggle for it!
That's all for today. Ciawww.